AWAR Ft Scarface & Anthony Hamilton – Forty Five Soul (@AWAR @BrotherMob @HamiltonAnthony)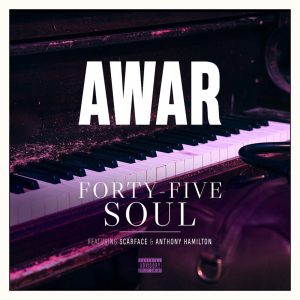 AWAR unleashes "Forty Five Soul" featuring the legendary Scarface and Anthony Hamilton. This was the last drop before his album, Spoils of War", debuted.
"Forty Five Soul" is a record that is very symbolic of the everyday struggle. We continue to let the flame burn and rise out of the ashes each morning, even though life can be rough. A throwback to when quality music still mattered over the bullshit, just let the record spin.
"The studio session for Forty-Five Soul was one of the more monumental moments in my rap career. I got a phone call that Face was in town and ready to record if I could pull off a session that same night. I called a few people and ended up booking Headqcuarterz Studios (DJ Premier's now closed midtown location). Scarface hit me and said he was about to pull up. Dj Khaled and Scarface hopped out of the Maybach, and then I was given one of the hypest Khaled speeches ever in the elevator about what was about to go down. They heard the music and said "This is one of them ones" and the rest is history" – AWAR
Powered by WPeMatico